Devils Gulch Trail No. 1220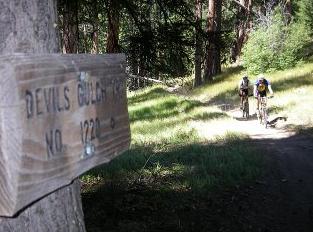 Wenatchee, Cashmere, Chelan County Washington USA

~~ Devils Gulch Trail Description:
The Devils Gulch is known as one of Washington State`s classic bike rides.
Devils Gulch lives up to the hype in many respects. Some cyclists, loathe to
pedal the 12-mile, 3,300-foot climb that starts this loop, shuttle a car to the
trail head and begin riding from the top.

To give you an idea of how continuous and unabated the descent is, some
BMX riders can complete a one way trip from the top on a one speed BMX
bike. Also, strong riders have been known to ride up Devils Gulch trail and
walk up the switch backs, and then ride down the trail.

The Devils Gulch trail is not a throw you over the handle bars, every man
for himself kind of trail, but because parts of the trail skirt along the edge
of drop offs, this trail is probably best left to the advanced bike riders.

~~ Devils Gulch Trail Directions And Information:
From Wenatchee, go up Squilchuck Road toward Mission Ridge.
Follow the Squilchuck Road one mile past Squilchuck State Park
and turn right on Liberty Beehive Road 9712. Go up this road
about 4.3 miles to the Devils Gulch Upper Trailhead.

The Devils Gulch Trail No. 1220 Access, begin from the trail
head at the Beehive Reservoir on Liberty Beehive Road 9712.
head off down to Mission Creek Road No. 7100.

BMX & Mountain Bikers generally like to be dropped off above
the Beehive Reservoir to begin at the Beehive Devils Gulch trail
head and travel the route down to Mission Creek.




( Click On Photo [ Map ] To View Full Size )



Locator Map - Length 12.3 miles one way.

Several adjacent trails offer longer riding opportunities:
ten-mile Mission Ridge No.1201
three-mile Red Hill Spur No.1223.1
eight-mile Red Hill No.1223
three-mile Devils-Mission Tie No.1204

Allowed BMX & Mountain Biking, Hiking, Trail bike riding,
Horseback riding. Bikers and Hikers may encounter each other
on blind corners. BMX & Mountain bikes are fairly quiet and
gain speed coming downhill. Not allowed Three or four wheeled ATVs.

Elevation Gain:
Devils Gulch has a moderate grade, however, adjacent trails
offer access to steeper terrain and provide more challenging
trail bike and bmx & mountain bike riding.

What you will see From Mission Creek, beautiful sandstone spires
and rock outcroppings, all part of the Swauk sandstone formation.
Lower portion wanders for quite a distance through a riparian area
filled with large cottonwoods and poplars.Streamside segment offers
great places for bird watching among the hardwoods. Look for
occasional beaver activity, along with signs of bears and coyotes.

Ascending toward Mission Ridge,
travelers step out of the riparian area and into an open
ponderosa pine forest of large trees with a parklike feel.

Up toward Liberty Beehive Road awaits a denser north-side
forest moister, cooler, shaded. Breaking into the open at
the Liberty Beehive trail head, visitors are rewarded by
a nice view of Mount Stuart and Glacier Peak.

Information: Leavenworth Ranger District
600 Sherbourne, Leavenworth, Wa 98826
(509) 548-6977 - Wenatchee National Forest
* http://www.fs.fed.us/r6/wenatchee
* http://www.fs.fed.us/r6/wenatchee/recreation/bike

Other Information Sources: Devils Gulch:
* http://www.visitcashmere.com/mountainbiking.html
* http://www.leavenworth.org/modules/pages/pageid=224&path=7
* http://www.mbronline.com/mbr_html/wa/wa_trail/dv_gulch.htm
* http://www.dirtworld.com/trails/trail.DevilGulchMountainBikeTrail
* http://content.mtbr.com/Trails/Washington/Devils Gulch
* http://www.trailsgalore.com/trails/Devils_Gulch_Trail_Washington.html
* http://www.activetrails.com/trail.cfm/1078/Devils-Gulch Wenatchee

~~ PIPELINE TRAIL ~~
Take the Beehive Reservoir road pass the reservoir to the large
Devil's Gulch Trail parking area on the right; across the road is
a wide single-track trail.

Although this trail is most often used as a connector for loops
with other trails such as Devil's Gulch, Devil's Spur, Lake Clara,
or the Mission Ridge Trail, the Pipeline can be a suitable training
route for someone new to single -track riding because the feeling
of exposure is fairly minimal and it's fairly flat. It's an out-and-back;
when you get to Chair One at Mission Ridge, just turn around and
head back. Total elevation gain: virtually non.

Length: about six miles round trip. You can make it a slightly
tougher ride by doing to from the other direction, starting the
the Mission Ridge parking lot, going up the service road, then
out and back.

~~ DEVILS SPUR ~~
On the drive up to Mission Ridge, park in the small parking area
alongside the last hairpin switchback on the left, where there's
a big rock outcropping and view spot on the right. The trailhead
is there, and it;s a gradual climb to Devil's Gulch Trail.

Most people go to Devil's Gulch Trail, hang a left across the parking
lot to the Pipeline Trail, following that to the Mission Ridge Service
Road next to Chair One, then following that back down. Total elevation
grain: about 400 feet. length: an eight-mile loop.

For Other Information RE: Devils Gulch Trail Alternatives:
* Just Get Out.net/Wenatchee/Devils Gulch Alternatives
* Just Get Out.net/Wenatchee/Guide Book: Mountain Biking


___________________________________________________________________

A Fun Long Devils Gulch BMX Ride


Photo by Gene`s BMX August, 1995
A group of BMXers and Bikers ride 12 mile Devils Gulch trail.



For a BMXer the best spot to start off to ride Devils Gulch,
would be at the Mission Ridge Lodge Parking lot. You start
off about 1/2 of a mile of uphill to the pipeline trail. Then go
Northwest for about 3 miles on the pipeline trail.

Pipeline trail is mostley a flat trail to ride on. "Once
you battle the 1/2 mile of uphill at the start". Pipeline
trail will end at the trail head of Devils Gulch trail, on
the Liberty Beehive Road, "just go across the road".

Devils Gulch trail this way is all most all down hill for 12
miles. Lots of nice small dirt and rock jumps along with a
hand full of mud holes and creek crossings.Once you battle
all the 12 miles of down hill and some flat parts of the trail,
you end up at Mission Creek Trail head of the Gulch.

The Bottom, From ther you can have a car parked and drive back
home or, you can ride Mission Creek Road down in to Cashmere.
The dirt gravle road gos downhill for about 2 1/2 miles till you get
to the paved road. On the paved road its 6 miles in to Cashmere,
of some small hills weevy paved road."allmost all down hill" Mission
Creek Road ends with you facing a School house building in Cashmere.
This trip of the Devils Gulch ends you at a 24 mile ride.

The best time of day to start off is about 8am Make a day group
ride of it, Pack a lunch, Have FUN and be Safe! Happy Riding!


___________________________________________________________________