Tex Games 2001
Omak, Washington USA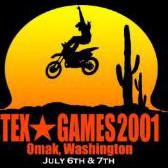 ___________________________________________________________________


Tex Has Friends In High Places
07-12-2001 by: Dave Finger EXPN.com
Tex Games Rocks in Omak,Washington
( EXPN.Tex Games 2001-Omak,Washington )

___________________________________________________________________


Extreme Extravaganza


Brian Downing, 24, of Ferndale soars through the air Friday
in the Tex Games 2001, held in Omak Wa. over the weekend.



Omak, Washington -- 07/09/2001
Seth Enslow walked up the 45-degree ramp, held his hand over
the visor of his motorcycle helmet and looked across the tops
of one motorhome and nine cars and trucks to the dirt mound
on the other side.

He then drove his bike up the dirt mound -- his landing pad
-- and looked the other way, back at the takeoff ramp.

The jump -- spectators said they saw a worried look on
his face just after takeoff -- landed him at the edge of
the mound, short enough so no one knew for sure if the
professional rider and dare-devil would make it.

Dirt flew as his rear tire made a four-inch pit in the earth.
He drove his bike up and over the mound to a cheering crowd.

How far? "Two hundred feet," said the announcer,
Cameron Steele. "Actually, in this case, it was 199."

That's extreme sports. Going to the edge, and making it.
You hope.

"You never know what's going to happen at the
Tex Games," said Steele. And he was right.

Police, who feared the games would get out of hand, reported
no problems, said Omak Police Chief Larry schreckengast.

Most of the 8,000 tickets available for both the Friday and
Saturday shows weren't sold, but organizers didn't seem to
mind that either.

"Of course, it was a success," said promoter Dave McKay.
People had fun, the event went off without a hitch.

McKay said he still doesn't have figures on how many tickets
were sold, or how much money was raised for the Scott Stamnes
Give To Kids Fun(d), a memorial fund honoring a top Bellevue
skateboarder killed by a drunken driver last year.

Police estimated about 600 people were at the Stampede
grounds at the Eastside Park on Friday, and 2,000 on Saturday.

"We couldn't have been happier with the city of Omak," he added.
"I think we helped expand some of the consciousness of this county.
It's all about breaking down barriers. We're like normal people."

The crowd was mostly twenty-somethings. Lots of tanned bodies,
tattoos and pierced body parts. "I've never seen so much body art
in my life," said Omak Councilman Bob Kawahara, who supported
Tex Games. "This is a little different crowd than we're used to,"
he said. "But we didn't have any difficulty at all."

The City Council was reluctant to give its approval, worried about
reports of last year's Tex Games at Tex Devenport's ranch in Glacier,
near Mount Baker. Schreckengast recommended that the council not
allow the games, saying police might not be able to handle such a large
crowd of young people on top of many Fourth of July events.

McKay said this year's event is the first time
rodeo has been mixed with extreme sports.

"We were real skeptical. Motorcycling and bulls usually
don't mix," said rodeo announcer Dale Crossland. "But I
thought they enjoyed the riding and we enjoyed the motorcycles."

He said bull riders commented that the motocross freestyle riders
were nuts, and motorcycle riders thought bull riders were crazy.

"I liked watching it (bull riding), as long as I'm not the one
getting injured," said Seattle resident Chris Robinson, who
does a lot of alternative sports.

Friday was the first time he had ever seen rodeo. Local residents
seemed to like the mix, too. Tonasket teen-agers Jed Whittaker,
Nick Pavek and Seth Super sat in the stands watching their friends ride
bulls, but anxiously waiting for more motocross jumping, snowmobiling
through dirt and the truck tug of war.

"This is awesome," said Kevin Cornett, of Okanogan.
"It's neat we're getting something like this in Omak.
It's the best of everything. I hope they do it again."

Stampede President Fred Winningham said he thinks local
concern over hosting the Tex Games was from fear of the unknown.

He said he had some concern Friday night when impromptu
women's mud wrestling brought the entire crowd into the
arena after truck tug of war.

But the crowd was kept back, and the situation handled well, he said.

"It didn't get beyond a PG rating," he said. Winningham said the
noise level of the music, which went on until after midnight both
nights, will likely be the only issue city leaders need to address
if Tex Devenport wants to return with his games next year.

"I thought it was a great opportunity for Okanogan County to
see another lifestyle," he said. "If they can get everything pulled
together and cleaned up there shouldn't be any reason for anyone
to complain."


___________________________________________________________________


Crowd Control Not An Issue As Tex Games
Open With A Whimper


Omak, Washington -- 07/08/2001
Alternative sports, live music, a spur-of-the-moment women's
mud-wrestling competition -- everything came together at the
Tex Games here Friday, except the crowds.

But the sparse attendance didn't worry organizers, who hoped to
attract thousands and pulled in only several hundred people for
the first day of a two-day mix of motocross jumping, rodeo, truck
tug-of-war, skateboarding and BMX biking at the Omak Stampede
Arena at the Eastside Park.

"It'll get better tomorrow, hopefully," said organizer Tex Devenport.
"If not, I'll be in Omak for a while washing dishes."

He jumped through several hoops -- including hiring Starplex Security
and paying the Omak Police Department $15,000 to bring on eight additional
officers each day -- to get approval from the City Council to hold the event.

Omak Sgt. Frank Rogers said they could have done with
three instead of the 13 officers patrolling the grounds.

Aside from a few alcohol-related disturbances,
there were no problems, he said.

Outside the gate, a group of Omak boys tried out a new pyramid and vert ramp
that Devenport's crew constructed this week to enlarge the city's skate park.

Most said they planned to attend Saturday, except Ted Storm,
14, who was directing cars to parking areas. "I'll go in later
tonight," he said Friday, noting his job gets him in free.

Cory Michels, 10, who was riding his BMX bike on the new course,
said he couldn't wait to see the professionals in action.
"I'll just watch everything," he said.

Some said they were waiting until today so they could catch
Seth Enslow's 170-foot motocross jump over motorhomes, scheduled for 3 p.m.

Inside the arena, three huge mounds of dirt and two ramps sent professional
motocross freestylers flying across the afternoon sky where they did midair tricks.

In between, a boxing ring was covered in tarps,
waiting for today's toughman-style boxing.

Organizers also postponed the truck tug-of-war finals until today,
hoping for better traction for trucks. Hooked together with a metal cable,
the four-wheel-drives gunned their engines and sprayed dirt 20 feet into
the air trying to pull each other over the line.

But the wet surface was perfect for mud wrestling,
so the announcer asked for, and got, donations
from the audience for prize money.

A crew from Blue Torch TV was filming the event,
which will air later on Fox Sports Network.


___________________________________________________________________


Tex Games Bring The Extreme To Omak


Omak, Washington -- 06/11/2001
Omak is preparing for an extreme weekend July 6th and 7th, 2001

The Tex Games -- a mix of alternative sports, rodeo events and music
expects to draw 8,000 spectators to the Eastside Park and Omak Stampede
Arena each day.

The Omak City Council recently approved the event,
although the city's police chief recommended against it.

But organizer Tex Devenport, from Glacier, near Mount
Baker, said he's confident he'll pull off a well-organized and
well-policed event that will leave the city asking for more.

Last year's Tex Games, held at his 40-acre ranch, was a
year-end party for Mount Baker snowboarders, and parts of
the two-day bash admittedly got out of control, he said.

An article on ESPN's Web site describes last year's Tex
Games as a huge drunken bash policed by the Banditos,
a biker gang.

A wet T-shirt contest that turned into a strip show apparently
drew police, although no one was arrested, according to the article.

Devenport said the report made the overall event sound more shocking
than was the case. He said there will be no wet T-shirt contests this year.

A sergeant at the Whatcom County Sheriff's Office said
deputies made no arrests at last year's Tex Games, but
he added his department had a manpower issue that weekend.

"It was a huge success for them, but it was kind of nightmare for
authorities," said Warner Webb, Whatcom County fire marshal.

Webb said the state Department of Transportation had a
problem with cars parking on the Mount Baker Highway,
and the state Liquor Control Board apparently wasn't pleased
with beer garden control.

He added the same promoters have since put on a couple
snowboarding events, which were much better organized.

"If I had to vote somebody most improved, they'd be it," he said.

But Omak Police Chief Larry Schreckengast said he worries
that the event will attract a younger crowd, and a crowd that
is more likely to consume large amounts of alcohol. He said
no one he talked to when investigating last year's Tex Games
gave him any indication it was a wholesome, family event.

This year, Devenport said, he plans to create an opportunity
for all to see some of the world's top alternative sports
competitors, with proceeds going to a cause close to his heart.

Devenport said 10 percent of ticket sales, proceeds from vendors
and sponsor funds will go to the Scott Stamnes Give To Kids fund.

Stamnes, who was rated the eighth top amateur skateboarder in the
world, was killed by a drunken driver in France early this year, he
said. His Bellevue parents set up the fund to give young people the
opportunity to pursue alternative sports, music and art.

Devenport said Stamnes was a personal friend. "He was just a real
cool, positive person who always helped people in need," he said.

He said many of the world's top skateboarders, pro-BMX
riders and freestyle motocross jumpers have pledged to
perform just to support the cause.

Among them is motorcycle jumper Seth Enslow, who will
jump 170 or more feet over motor homes outside the arena
on Saturday, and perhaps on Friday if more sponsors commit,
said Devenport.

In addition to the BMX and skateboard exhibitions, there will
be boxing competitions, truck tug-of-wars, open mini-bike races,
professional rodeo exhibitions, calf riding for kids, and live
music by 20 bands from around the West.

He said beer gardens will be monitored to prevent
people from drinking outside the boundaries.

He's hired Starplex, a security team used at the Omak Stampede,
to patrol the Eastside Park. He also will pay for additional
police officers required by the council.

Schreckengast said he still has concerns about the event,
particularly since his Omak officers will be busy patrolling
the city during the three-day Fourth of July weekend.

But now that the city council has approved Tex Games,
he said he'll work to ensure it's a safe weekend for all.

Tickets, not yet on sale, are expected to range from $28 to
$30 per day, Devenport said. On the Web: ( www.texgames.com )


___________________________________________________________________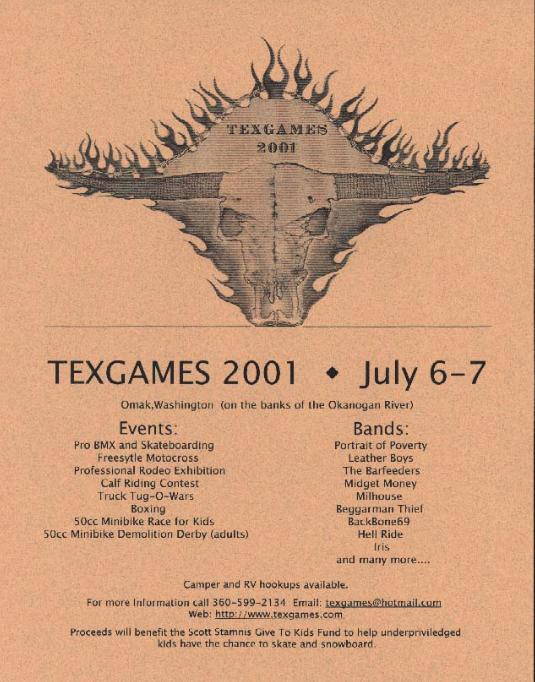 ___________________________________________________________________

Geneb...Wenatchee,Washington-USA
All Things Northwest in BMX!
***** Gene`s BMX *****
http://www.genesbmx.com