2017 Archived News
* This page may load slow due to lots of news and photos listed *

Gene`s BMX.com - 2017 Archived News Page:
This is the hot shot news clips that are and where posted upon the main page.
The center photo and news under heading and on the tip top of the web site..
Both areas of the web site are updated all the time with news and information.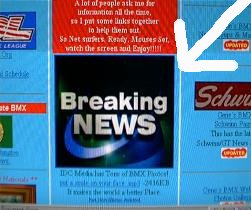 If you have some hot news and you want it listed on to this spot,
Please send it to Gene`s BMX along with a Photo/Logo and your
news information and we will try to get it posted on this spot asap.
Please Note Photos/Logo`s are Resized to 251 x 210 to fit in spot.
Message text lines are 8 and small and can end with linked (more).

Hot news and information posted on the Tip Top Of The Web Site,
The Photos and Logos can somewhat vary in the size but purrfurably
standard web size banners of 468 X 60. The message text lines can
somewhat be of standard large and they can end with linked (more).

About the Archived News on this page: Some of the url links to
some of the sources maybe out of date and dead as time gos on.
The Archived News on this page is "posted new to old" as listed.


Other Archived News Pages:
* Click here for the 2016 Archived News page
__________________________________________________________
__________________________________________________________


~~~~~~~~~~~~~~~~~~~~~~~~~~~~~~~~~~~~~~~~~~~~~~~~~~~~~~~~~~~~~~~

Redmond, Oregon USA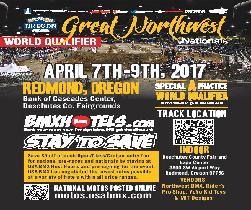 ABA-USA BMX Great Northwest
Nationals Is Returning To Redmond
Oregon This April 07th - 09th, 2017
At - Deschutes County Expo Center
Indoor - In - Bank Of The Cascades
Center Arena. - Be Ready! - See You
At The Track. (~ More Information ~)

~~~~~~~~~~~~~~~~~~~~~~~~~~~~~~~~~~~~~~~~~~~~~~~~~~~~~~~~~~~~~~~



(~~~ News From In The Pacific Northwest = February 2017 ~~~)



* Congratulations Hudson White 10 Headed For BMX World Championships.
Seattle, Washington USA -- 02-21-2017
West Seattleite and Arbor Heights Elementary student Hudson White qualified to represent the
United States in the 10 Challenge Boys class at the UCI World BMX Championships late this July.
Hudson competed at the UCI Worlds Qualifier race in Phoenix racing his way into the main event
and an invitation to Team USA.

* Lights, BMX Course Slated For Bends Big Sky Park.
Bend, Oregon USA -- 02-08-2017
The Big Sky plan has two features of interest to cyclists, an expansion of the BMX park to include
a pump track and a skills course, and a 1.5-mile loop trail for cyclocross training and racing.

* Community Sports: Emerald Valley BMX To Host USA BMX Gold Cup Northwest Finals.
Eugene, Oregon USA -- 02-06-2017
Emerald Valley BMX in Eugene has been chosen to host the USA BMX Gold Cup Northwest Finals
on September 15th - 17th, 2017. The Gold Cup is a regional series of races that consist of six regional
finals. Qualifying races are held throughout the year at more than 70 local tracks with thousands of
riders competing for a spot in the finals. Nearly 10,000 riders competed in the series in 2016. ( More )

* Coeur d Alene Seeks $200K Grant To Build New Skate Park.
Coeur d Alene, Idaho USA -- 02-02-2017
The city of Coeur d Alene is looking to build a new skate park that could open in the spring
of 2018. City leaders said they are seeking a $200,000 state grant to help pay for the park.
City leaders expect to find out if they get the grant by June. ( More )

* Lazer Sport Now Owned By Shimano, Opens US Office In Washington.
Vancouver, Washington USA ( BRAIN ) -- 02-01-2017
Lazer Sport USA has opened its North American office, which will handle dealer support, sales and
customer service. The new office is located in Vancouver, Washington. Shimano American took over
the sales of Lazer in the U.S. last fall. Shimano Europe completed the acquisition of Lazer in August.


~~~~~~~~~~~~~~~~~~~~~~~~~~~~~~~~~~~~~~~~~~~~~~~~~~~~~~~~~~~~~~~



(~~~ News From In The Pacific Northwest = January 2017 ~~~)



* Port Angeles BMX Track Operator At Odds Over Facility.
Port Angeles, Washington USA -- 01-12-2017
The Port Angeles BMX Track in city-owned Lincoln Park should be run by a nonprofit corporation with
a governing board instead of a Port Angeles native whos been doing it for the past eight years, city
officials have decided. Thats put the current bicycle-track operator, Geri Thompson, 56, into a bind.

* Q13 News Photographer Captures Amazing, Rare Skateboard Trick.
Seattle, Washington USA -- 01-04-2017
A Q13 News photographer managed to capture a rare feat Monday evening. But, unless youre somewhat
of a skateboarder, you might have missed it. Photographer Mike McCarty was shooting b-roll footage
at the West Seattle Delridge Skatepark when he spotted one particularly good skater, Andrew Hopgood.
McCarty asked Hopgood if he could perform a trick for the camera, and the skater obliged.


~~~~~~~~~~~~~~~~~~~~~~~~~~~~~~~~~~~~~~~~~~~~~~~~~~~~~~~~~~~~~~~

2016 BMX YEAR-END REVIEW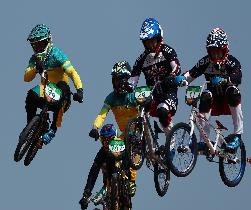 The sport of BMX in year 2016 had
some trends-issues-solutions-reviews,
previews and successful bmx riders...
Gene`s BMX has archieved the 2016
hot shot BMX News clips that where
posted on this spot so you can review
all of the happings from this past year.

__________________________________________________________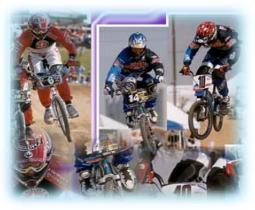 * Click here for the 2016 Archived News page
* Click here for the 2015 Archived News page
* Click here for the 2014 Archived News page
* Click here for the 2013 Archived News page
* Click here for the 2012 Archived News page
* Click here for the 2011 Archived News page
* Click here for the 2010 Archived News page
* Click here for the 2009 Archived News page
* Click here for the 2008 Archived News page
* Click here for the 2007 Archived News page
* Click here for the 2006 Archived News page
* Click here for the 2005 Archived News page
* Click here for the 2004 Archived News page
* Click here for the 2003 Archived News page
* Click here for the 2002 Archived News page





Geneb...Wenatchee,Washington - USA
All Things Northwest in BMX!
***** Gene`s BMX *****
http://www.genesbmx.com