2020 Archived News
* This page may load slow due to lots of news and photos listed *

Gene`s BMX.com - 2020 Archived News Page:
This is the hot shot news clips that are and where posted upon the main page.
The center photo and news under heading and on the tip top of the web site..
Both areas of the web site are updated all the time with news and information.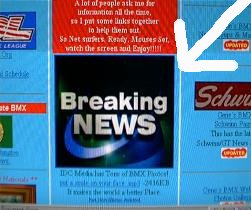 If you have some hot news and you want it listed on to this spot,
Please send it to Gene`s BMX along with a Photo/Logo and your
news information and we will try to get it posted on this spot asap.
Please Note Photos/Logo`s are Resized to 251 x 210 to fit in spot.
Message text lines are 8 and small and can end with linked (more).

Hot news and information posted on the Tip Top Of The Web Site,
The Photos and Logos can somewhat vary in the size but purrfurably
standard web size banners of 468 X 60. The message text lines can
somewhat be of standard large and they can end with linked (more).

About the Archived News on this page: Some of the url links to
some of the sources maybe out of date and dead as time gos on.
The Archived News on this page is "posted new to old" as listed.



Other Archived News Pages:
* Click here for the 2019 Archived News page
__________________________________________________________
__________________________________________________________


~~~~~~~~~~~~~~~~~~~~~~~~~~~~~~~~~~~~~~~~~~~~~~~~~~~~~~~~~~~~~~~



(~~~ News From In The Pacific Northwest = January 2020 ~~~)



* X Games Qualifier Will Not Return To Rhodes Skate Park In 2020.
Boise, Idaho USA -- 01-15-2020
An extreme sports event will not be returning to Boise this year, according to city officials. Rhodes Skate
Park in downtown Boise has hosted the Road to X Games: Park Qualifier for the past three years, but now
the City of Boise and Espn say they've mutually agreed to take a break from hosting the qualifier in Boise.

* A Pump Track Coming To Bender Fields.
Lynden, Washington USA -- 01-08-2020
Those attending the City Council meeting Monday got introduced to the concept of a BMX pump track, and
one is coming to a park near you. Councilors, after seeing a video with explanation from proponent Kevin Rus
voted in favor of allowing the undulating bicycle track to be built at Bender Fields next spring. It will be just
north of the multi-sport Rotary Park project that is already in progress, although its separate in its origination.

* Locals Hopeful To Raise Funds To Improve Hale Skate Park Safety And Create A Family Friendly Ambiance.
Wenatchee, Washington USA -- 01-07-2020
The new Wenatchee skate park, Hale Park, was unveiled in September, however the remaining grant funding
for the parks finishing touches cant cover the expenses for lighting. The founder of Community for Wenatchee
Valley Skateparks, Mike Leeds, has created a fundraiser to raise $55,000 for three light poles and $4,000 for
bleachers with the funding being directly routed through the non-profit, Wenatchee Valley Sports Foundation.
There is lighting in the parking lot, but there isnt at at the skatepark.


~~~~~~~~~~~~~~~~~~~~~~~~~~~~~~~~~~~~~~~~~~~~~~~~~~~~~~~~~~~~~~~

2019 BMX YEAR-END REVIEW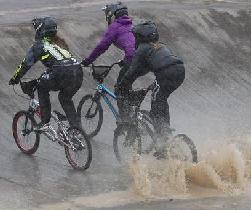 The sport of BMX in year 2019 had
some trends-issues-solutions-reviews,
previews and successful bmx riders...
Gene`s BMX has archieved the 2019
hot shot BMX News clips that where
posted on this spot so you can review
all of the happings from this past year.

__________________________________________________________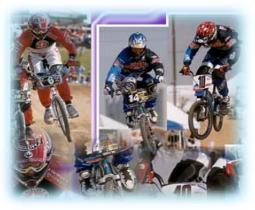 * Click here for the 2019 Archived News page
* Click here for the 2018 Archived News page
* Click here for the 2017 Archived News page
* Click here for the 2016 Archived News page
* Click here for the 2015 Archived News page
* Click here for the 2014 Archived News page
* Click here for the 2013 Archived News page
* Click here for the 2012 Archived News page
* Click here for the 2011 Archived News page
* Click here for the 2010 Archived News page
* Click here for the 2009 Archived News page
* Click here for the 2008 Archived News page
* Click here for the 2007 Archived News page
* Click here for the 2006 Archived News page
* Click here for the 2005 Archived News page
* Click here for the 2004 Archived News page
* Click here for the 2003 Archived News page
* Click here for the 2002 Archived News page





Geneb...Wenatchee,Washington - USA
All Things Northwest in BMX!
***** Gene`s BMX *****
http://www.genesbmx.com