2018 Archived News
* This page may load slow due to lots of news and photos listed *

Gene`s BMX.com - 2018 Archived News Page:
This is the hot shot news clips that are and where posted upon the main page.
The center photo and news under heading and on the tip top of the web site..
Both areas of the web site are updated all the time with news and information.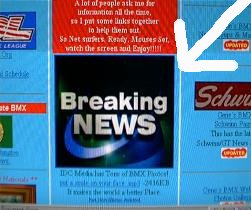 If you have some hot news and you want it listed on to this spot,
Please send it to Gene`s BMX along with a Photo/Logo and your
news information and we will try to get it posted on this spot asap.
Please Note Photos/Logo`s are Resized to 251 x 210 to fit in spot.
Message text lines are 8 and small and can end with linked (more).

Hot news and information posted on the Tip Top Of The Web Site,
The Photos and Logos can somewhat vary in the size but purrfurably
standard web size banners of 468 X 60. The message text lines can
somewhat be of standard large and they can end with linked (more).

About the Archived News on this page: Some of the url links to
some of the sources maybe out of date and dead as time gos on.
The Archived News on this page is "posted new to old" as listed.



Other Archived News Pages:
* Click here for the 2017 Archived News page
__________________________________________________________
__________________________________________________________


~~~~~~~~~~~~~~~~~~~~~~~~~~~~~~~~~~~~~~~~~~~~~~~~~~~~~~~~~~~~~~~




~~~~~~~~~~~~~~~~~~~~~~~~~~~~~~~~~~~~~~~~~~~~~~~~~~~~~~~~~~~~~~~



(~~~ News From In The Pacific Northwest = March 2018 ~~~)



* Work On Upper Sankey Park BMX Course Back On Track.
Sweet Home, Oregon USA -- 03-14-2018
in The City of Sweet Home and City Councilor James Goble have resumed work on the track
Upper Sankey Park. Goble said that the project will include community work parties. Anyone
interested in the project can follow it and receive notifications about work parties on Sankey
Park BMX Track.

* Portland Police Officers Nab Thief Who Stole Bike From 12-Year-Old.
Sellwood, Oregon USA -- 03-02-2018
A 12-year-old was speechless after a pair of Portland police officers nabbed a guy they say stole
the boys bike. Police say the theft occurred outside Fosters Market in Sellwood on February 21st.

* E-bike Bill In Washington State Heads To Governor For Signing.
Olympia, Washington USA ( BRAIN ) -- 03-01-2018
The Washington state Legislature passed a three-class e-bike bill (SB 6434) Tuesday night with
86-12 vote (House), following a 44-2 vote out of the Senate. It defines Class 1, 2 and 3 e-bikes
as bicycles with many of the same rights to the road, in particular bike path access for Class 1
and 2 e-bikes. The bill (SB 6434) its expected to be signed into law by Gov. Jay Inslee in March.


~~~~~~~~~~~~~~~~~~~~~~~~~~~~~~~~~~~~~~~~~~~~~~~~~~~~~~~~~~~~~~~



(~~~ News From In The Pacific Northwest = February 2018 ~~~)



* Oregon Could Add $15 Tax To Some Kids Bikes.
Eugene, Oregon USA -- 02-26-2018
Quote:- The aim is to include adult bikes with small wheels, such as recumbent or adult BMX bicycles,
that may currently be escaping the tax. But bicycle advocacy groups say few of those adult bikes with
small wheels are sold in Oregon.

* All She Needs Is Two Good Wheels.
Coeur d Alene, Idaho USA -- 02-24-2018
14-year-old Ella Erickson poses for a portrait next to her BMX trophies Wednesday afternoon.
Ella was recently selected by Commencal, an international powerhouse bike brand, to represent
the company as a member of the Commencal Junior Cartel team. She is one of only six American
youths to snag this honor.


~~~~~~~~~~~~~~~~~~~~~~~~~~~~~~~~~~~~~~~~~~~~~~~~~~~~~~~~~~~~~~~

Redmond, Oregon USA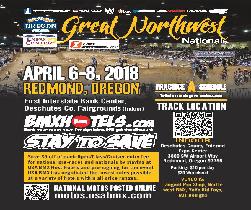 ABA-USA BMX Great Northwest
Nationals Is Returning To Redmond
Oregon This April 06th - 08th, 2018
At - Deschutes County Expo Center
Indoor - In The First Interstate Bank
Center Arena. - Be Ready! - See You
At The Track. (~ More Information ~)

~~~~~~~~~~~~~~~~~~~~~~~~~~~~~~~~~~~~~~~~~~~~~~~~~~~~~~~~~~~~~~~



(~~~ News From In The Pacific Northwest = January 2018 ~~~)



* Man Gets A Year In Prison For Pursuit Ending In Crash At Moses Lake BMX Track.
Moses Lake, Washington USA -- 01-31-2018
A man was sentenced to a year in prison for a September 2017 pursuit that ended in a crash
at the Moses Lake BMX track. Randy James, 20, pleaded guilty in Grant County Superior Court
to attempting to elude. A Grant County judge followed a joint recommendation and sentenced
James to 12 months and one day in prison. The standard sentencing range between 12 & 14 months.

* A Pasco Boy Thought His Bike Was Gone. Then Police Put It Up On Facebook.
Pasco, Washington USA -- 01-30-2018
Kirsten Peterson knew it couldnt be good news when she noticed her shed door open Monday.
When she got home from work around 2:30 p.m. she found someone cut through the padlock with
bolt cutters and swiped her 8-year-old sons new Subrosa BMX-style bicycle.

* Trailer Stolen From Family After Moving To Portland Found; Bikes, Trophies Still Missing.
Portland, Oregon USA -- 01-29-2018
A trailer stolen from a family that recently moved to Portland has been found, but the
contents including bikes, equipment and trophies is still missing. However, the trailer
was now filled with garbage, including empty gun boxes.

* Familys Dirt Bike Trailer Stolen After Moving To Portland.
Portland, Oregon USA -- 01-24-2018
Wayne Westover and his two sons just moved to Portland, and last weekend they went up to
the Tri-Cities to get more of their belongings. Westovers sons do BMX and dirt bike racing
all over the country and they use the trailer to haul their equipment.

* ANA Releases New Omnichannel Program For IBDs.
Kent, Washington USA ( BRAIN ) -- 01-19-2018
Accell North America unveiled a new omnichannel distribution program designed to entice brick-
and-mortar dealers to fulfill online bike orders, while requiring the stores to carry few — or
no — ANA bikes on their sales floor. The company said the program is in line with current shopping
habits and market realities and will help IBDs modernize.

* Port Angeles Council OKs BMX Gate.
Port Angeles, Washington USA -- 01-05-2018
The Port Angeles City Council has approved the $19,600 purchase of a new starting gate for the
Lincoln Park BMX Track. The council voted 7-0 Tuesday to authorize the city manager to buy the
electric starting safety gate from SASU of France, which out-bid an Illinois company for equipment.

* Many Hate It, But Oregon Retailers Are Hopefully Collecting The New Bike Tax.
Eugene, Oregon USA ( BRAIN ) -- 01-04-2018
The word you hear most often when you ask Oregon retailers about the states new bike tax is hope.
Retailers hope that proceeds from the $15 per bike tax - which they began collecting this week.
The tax applies to sales of new bikes with 26-inch or larger wheels and a retail price of $200 or more,
and is expected to raise about $1.2 million in its first year. Oregon has no regular sales tax, so many
bike retailers are unaccustomed to collecting one.

* City of Port Angeles Awards $50,000 For BMX Track Improvements.
Sequim - Port Angeles, Washington USA -- 01-03-2018
The city of Port Angeles has awarded $50,000 to the Lincoln Park BMX Association for improvements
to the city-owned Lincoln Park BMX Track. The City Council voted 7-0 in December to approve lodging
tax expenditure on its consent agenda. The Lincoln Park BMX Association will match the $50,000
expenditure with volunteer labor and equipment.

* City Officials Work To Bring Bike Share Program To Spokane.
Spokane, Washington USA -- 01-02-2018
The City of Spokane is making progress in its plans for a bike share program but there is still
a way to go before its launch. The city will have to decide if it will use a docked system where
you return bikes to a kiosk or a dockless system like in Seattle where you can park your bike
just about anywhere.


~~~~~~~~~~~~~~~~~~~~~~~~~~~~~~~~~~~~~~~~~~~~~~~~~~~~~~~~~~~~~~~

2017 BMX YEAR-END REVIEW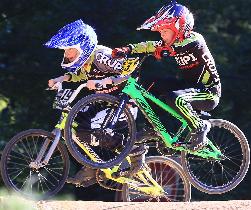 The sport of BMX in year 2017 had
some trends-issues-solutions-reviews,
previews and successful bmx riders...
Gene`s BMX has archieved the 2017
hot shot BMX News clips that where
posted on this spot so you can review
all of the happings from this past year.

__________________________________________________________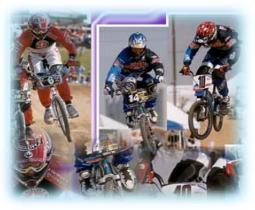 * Click here for the 2017 Archived News page
* Click here for the 2016 Archived News page
* Click here for the 2015 Archived News page
* Click here for the 2014 Archived News page
* Click here for the 2013 Archived News page
* Click here for the 2012 Archived News page
* Click here for the 2011 Archived News page
* Click here for the 2010 Archived News page
* Click here for the 2009 Archived News page
* Click here for the 2008 Archived News page
* Click here for the 2007 Archived News page
* Click here for the 2006 Archived News page
* Click here for the 2005 Archived News page
* Click here for the 2004 Archived News page
* Click here for the 2003 Archived News page
* Click here for the 2002 Archived News page





Geneb...Wenatchee,Washington - USA
All Things Northwest in BMX!
***** Gene`s BMX *****
http://www.genesbmx.com